Standard and custom filters and plugins
BENS Server as a means for process automation
BENS filters and plugins can be used to process print data as well as PDF files, graphic files and e-mails.
In the context of digital document processing, filters on the BENS server can be used to perform many tasks at the same time:
The merging of print data and digital templates, such as letterhead or logo.
Adding a page with general terms and conditions to the print data. The terms and conditions can be printed on the back of selected pages or as an additional page.
Creating electronic copies of individual pages or copies of entire documents.
The application of various watermarks to individual carbon copies or copies.
Management of paper control for different pages, copies or carbon copies. Automatic selection of paper types or paper trays for individual pages or copies of a document.
The final processing of documents at the printer, e.g. stapling or punching, output to different trays.
Converting the print files into PDF files and storing them in a hot folder
Distributed sending of document copies to different destinations, e.g. printing a copy of an invoice in the mailroom and on the printer in the accounting department.
… and much more.
Converter (Conversion with BENS Filters)
With the appropriate filters for the BENS Server, various data conversions can be carried out:
IPDS/AFPDS to PCL
IPDS/AFPDS to Postscript
Postscript to PDF
PCL to PDF
Prescribe to PCL
ZPL (Zebra) to PCL
PCL to ZPL (Zebra)
Almost all input data can be converted into a graphic format (PNG, JPG, TIFF, BMP etc.)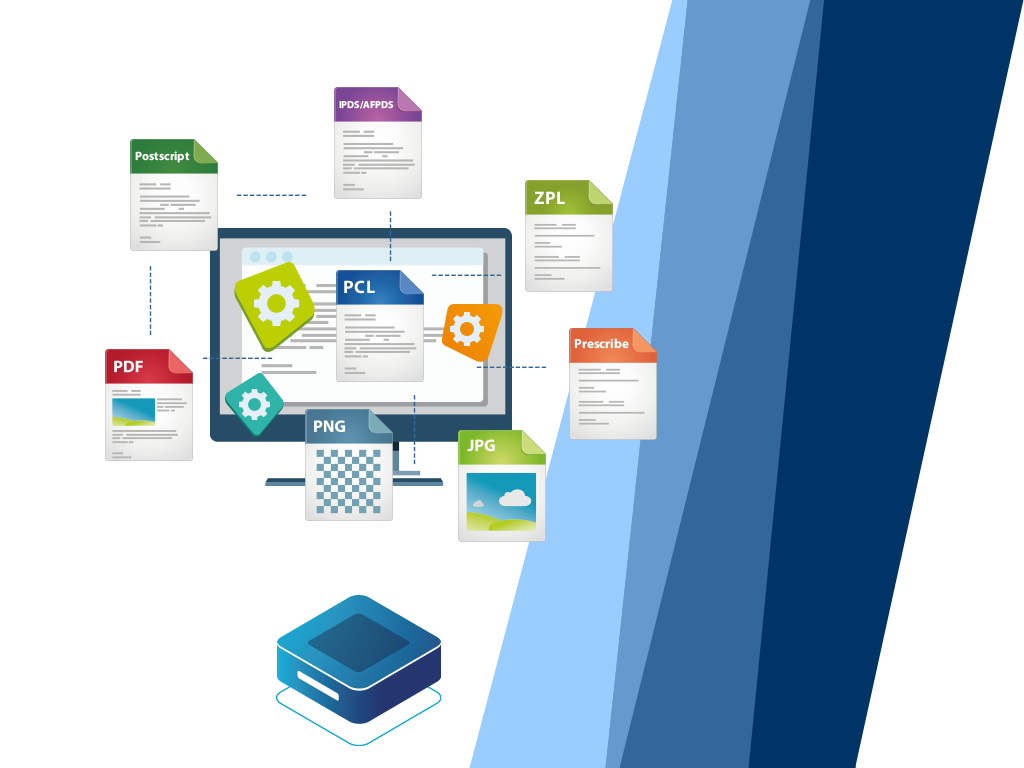 Standard filters and plugins
Many processes can be realized with standard filters and plugins (out of the box).
Standard Filters and Plugins
Standard filters and plugins are available, configurable programs (out of the box) for the BENS Server. They serve the automation and optimization of document processing processes. Depending on the program and configuration, filters and plugins can analyse, modify, supplement, forward or similar documents. Thus, both simple and complex document workflows can be realized. Examples of standard filters are: the Barcode Filter, the Macro Filter and the CarbonCopy Filter.
Electronic letterheads (overlays), logos, general terms and conditions, etc.
Electronic carbon copies of pages with watermarks
Paper tray assignment to specific pages
Barcode printing
Conversion of data (e.g. print data to PDF)
Printing load distribution to several printers (load balancing)
Protection against failure (failover)
Encryption of print data
Workflow can include many steps, such as:
Receiving, forwarding and distributing data
Extracting data from documents
Converting documents to other formats (e.g. PDF)
Reading from and writing to a database
Communication via e-mail
Reading and saving data in hot folders
Adding data to documents (e.g. barcodes, logos, letterheads, watermarks).
Custom filters and plugins
For processes that are particularly specific to your company, we offer our programming service. In most cases, our highly experienced programmers will put together a program (BENS Plugin) in a few days that maps and automates your company-specific document workflow.
A BENS plugin can handle a variety of tasks, e.g.:
Receive print data or PDF files via standard print protocols (raw, lpr, IP, IPP…)
Read documents from network hot folders
Read, analyse, modify, duplicate documents of all kinds and much more
Communicate with databases (read, write, modify, etc.)
Receive and send E mails
Forward processed documents to the next station.
These are:
Printer
Server
Hotfolder
E-mail
Databases